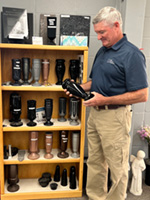 For over 35 years, countless local families have trusted Ragel Monument to create a precious piece of their personal history, a timeless statement to be thoughtfully regarded by generations to come.
Ragel Monument has been Garden City's own memorial monument provider since 1979. Every monument we build is crafted with the utmost attention to detail and the highest regard for its intended purpose. That is why we go to extremes to provide our families with the widest range of monument styles, the fullest selection of natural stones (mostly quarried here in the United States) and perform the engraving work in-house under our direct supervision. No other monument provider in our area can say the same.
We understand how difficult it can be to choose a memorial monument. (After all, it's a purchase that, once made, must be right and communicate across lifetimes.) Know that we are here to help make your selection and purchase the very best and very easiest it can possibly be.

Eddie Labrier, General Manager